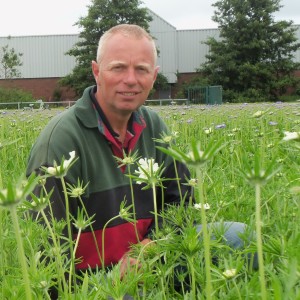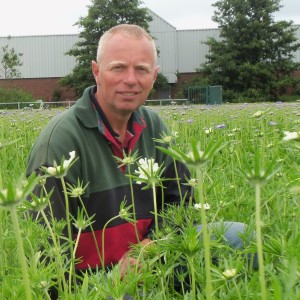 Small scale nursery in Hillegom
After many years of experience as a sales representative (with a supplier) in the horticultural industry we changed course. In 1995 we started our own nursery of about 7.5 acres after years of having a nursery as a hobby. This has now grown to 12.5 acres.
Hosta, Alchemilla, Scabiosa, Helenium en Aster
Our small scale nursery focuses on niche markets. We serve those niches with care by giving our products a lot of professional attention and putting the quality of our products first.
Environment
In our nursery we strive to minimize the use of chemical control. We have therefore  invested in mechanical weed control, consisting of a self-propelled hoe machine  and an air supporting hoe machine.
Damen Nursery and Annemieke's Picking Garden
In 2009 my partner in life started Annemieke'sPicking Garden. With our picking garden we offer visitors the possibility to pick their own bunch of flowers. And it is also possible to rent a canoe and go canoeing through the bulb area.
For more information, see: AnnemiekesPluktuin.nl.
Watch the CompanyPresentation of the nursery.